While reading this article, many of you will probably be checking social media feeds on your smartphones, working on a big presentation on your laptop or streaming a new thriller web series on your Android TV . How would you be able to do all this in your phone without any interruption and problem? Yes, this is what Speedy does when the boss puts a full day's work on her in the evening to prevent her from going to the party. Ruthless, we know! But its name is Speedi and as it cannot add more hours to its day, so it takes full advantage of the hours it has.

But how does Speedy do this? Well, if you have noticed, then you must have seen that it uses Samsung Galaxy F62 for its immediate tasks and this gadget comes with the flagship 7nm Exynos 9825 processor.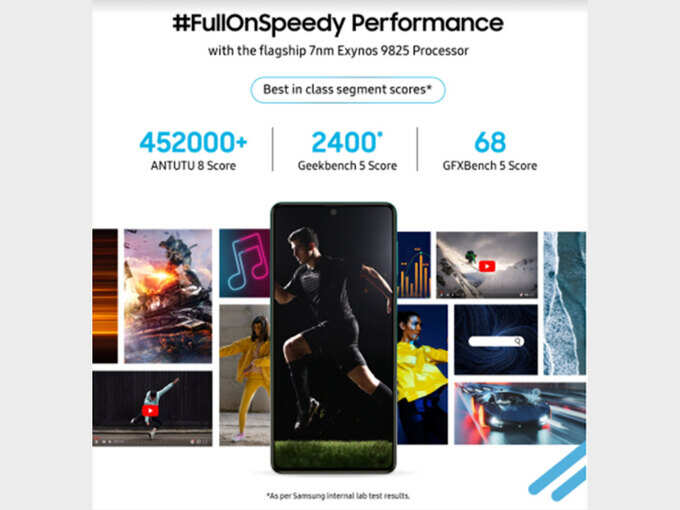 Strong performance and ability
The flagship 7nm Exynos 9825 processor helps deliver next-generation mobile experiences ranging from gaming to intelligent photography and AI-powered assistance. It uses the industry's first 7nm EUV processing technology that delivers tremendous gaming and graphics performance with a power-efficient package. Its octa-core CPU comes in a small package with tremendous horsepower. The CPU is the 'brain' of your smartphone, which receives commands, performs instant calculations and sends signals continuously from your device. Regardless of whether a processor is single-core, dual-core or multi-core, it is important to know how many CPU cores are in it. The flagship 7nm Exynos 9825 processor features a tri-cluster architecture with 'Exynos M4' for optimal performance, custom-made CPUs – two Cortex-A75 cores and four Cortex-A55 cores for superb efficiency, whatever you Allow to do. All these technical terms mean a great mobile experience that makes you multi-tasking at a fast, great speed.
Indeed, the flagship 7nm Exynos 9825 processor has shown its strength in several benchmark scores such as the Antutu 8 score at 452000+, the Geekbench 500 score at 2400 and the GFXBench 5 score at 68. The benchmark is the result of a series of tests to assess the performance of a computer or device CPU (or SoC). The set of standard and baseline measurements is used to compare the performance of different systems in the same manner and conditions. With these numbers, the #FullOnSpeedy processor outshines its rivals in the race.
The reason for this is the increased clock speed of two Cortex-A75 and 7nm EUV technology. The Exynos 9825 is lightning-fast as well as power-efficient so that you get optimized performance without worrying about battery life.
#FullOnSpeedy Energy with 7000mAh battery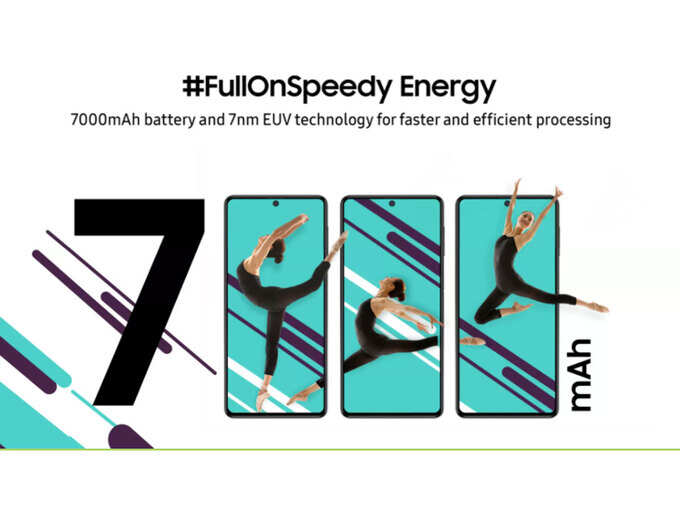 Talking about the battery, the new Samsung Galaxy F62, the Samsung Galaxy F62, has a huge 7000mAh battery and is the first and the only 7000mAh phone on Flipkart! When you have a processor that offers great gaming and design execution with large battery capacity, you will never worry about battery life. But if your boss bothers you for work, then you can do all this on-the-go, without compromising on your priorities! Actually, most of your work will be done by the phone itself, which is already ready to deliver strong AI experience. It also includes a personalized voice assistant so that you can leave the smartness of your boss behind by just commanding your smartphone.
#FullOnSpeedy Entertainment guaranteed with super display and camera
The processor and battery are the heroes of this smartphone, but don't think that the rest of the phone's specs have been compromised. Samsung understands the importance of excellent mobile experience and hence it has not only made the phone fast, but has also given many things that you can enjoy full speed. As an example, the Galaxy F62 has a sAMOLED + Infinity-O display. With a thin bezel and ergonomic grip, imagine the gaming experience in such a screen and speed?
Another very popular feature of the phone is the camera. It comes with such a great feature that is not found in any other phone. The 64MP main camera will allow you to click great pictures and will also help you get #FullOnSpeedy Likes at the village.
If Work + Play is your mantra then we know that you are imagining racing around the world with the flagship 7nm Exynos 9825 processor built as a raid on dungeons, fighting zombies and the future of mobile gaming. We will give more information about this in our next article. Until then, to be notified about the Samsung Galaxy F62, launching on February 15, 12 noon Flipkart And Samsung.com Go to (Samsung Galaxy F62 starting price is only Rs. 21,499 and its sale will start from February 22)
Disclaimer: This is a brand post and written by the Spotlight team of Navbharat Times.