Mukesh Ambani's Reliance Jio has once again sustained its average 4G download speed while Vodafone Idea tops in uploads.
According to the data of the Telecom Regulatory Authority of India (TRAI) in December, the average download speed of Jio was measured at 20.2 Mbps. Reliance Jio's average 4G download speed has remained above 20 Mbps for the last two months.
Reliance Jio has been the number one 4G operator in terms of download speed for more than last three years. According to TRAI, Bharti Airtel saw a slight drop in performance in December. Airtel's average 4G download speed was 7.8 Mbps in December as against 8.0 Mbps in November. Reliance Jio's speed was more than 2.5 times as compared to Airtel.
Though Vodafone and Idea Cellular have merged their businesses and are now acting as Vodafone Idea, TRAI shows the figures of the two separately. The average 4G download speed of Vodafone and Idea Network showed a slight difference from the previous month. While the speed of Vodafone remained at 9.8 Mbps in December as compared to November, Idea speed increased from 8.8 Mbps in November to 8.9 Mbps in December.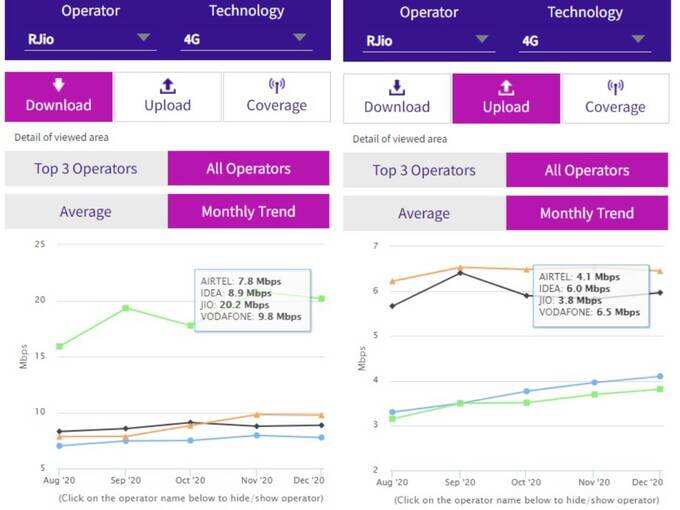 The speed of both Vodafone and Idea was slightly higher than Airtel in December but measured less than half that of Jio. Vodafone topped the average 4G upload speed chart with 6.5 Mbps in December. Vodafone had a speed of 6.5 Mbps in November as well. Idea was at number two, its upload speed was 6.0 Mbps. At the same time, average upload speeds of Reliance Jio and Airtel in December were 3.8 and 4.1 Mbps respectively. The TRAI average speed is calculated based on real time data collected with the help of MySpeed ​​application. Significantly, from the new year, Reliance Jio has resumed the facility of free voice calling on all networks for its consumers.