Highlights:
Having trouble connecting your device with nearby devices?
Many things will be possible without internet
Learn what are the benefits of this app
Many times we face a lot of trouble connecting our devices with the devices around us. Many times Bluetooth is also unable to support us. You too must have had to go through such trouble at some time. In view of this problem, a new app has been introduced. This App Tech Company Google Has launched Name of this app WifinanScan is. Talking about the specialty of this app, it helps you to connect devices to each other without internet and Bluetooth connection. This directly means that even if your phone does not have a network, all the work related to Wi-Fi can be done with the help of the app.
With the help of this app, the company has claimed that users will be able to do many things from booking a seat to a restaurant to booking a movie ticket without any internet connection without the help of the Wifi Aware app. This app can be downloaded from Google Play Store. However, this app has been designed for developers only so that they can experiment with Wifi Aware.

air cooler: buy air coolers for less than 8000 rupees, house will remain cool-cool cool-cool
Learn about this new app: The Wifi Aware app will work for users. It is a Neighbor Awareness Networking App. You can easily connect one smartphone to another without an external device. It will work on Android 8.0 or above. This allows two devices to connect to each other without any connectivity. According to a report, the WifiNanScan app can only be used on selected smartphones.
Learn what are the benefits of this app: If you are using this app, if you want to send documents to someone securely on the printer, then you can easily send them. For this, you will not have to login to any network.
If you have to do reservation in a restaurant and your phone does not have internet connection then this app will be very useful for you. Through this app you can do reservation in any restaurant without internet.
If you are at the airport and have forgotten to bring an ID, then you can check in without any ID in Security, Custom, Immigration.
IPhone users will also be able to play FAU-G game, available on App Store
Through this app you can book seat booking and movie tickets in any restaurant without internet connection. That too without any trouble.
Explain that this app is capable of working from 1 meter to 15 meters.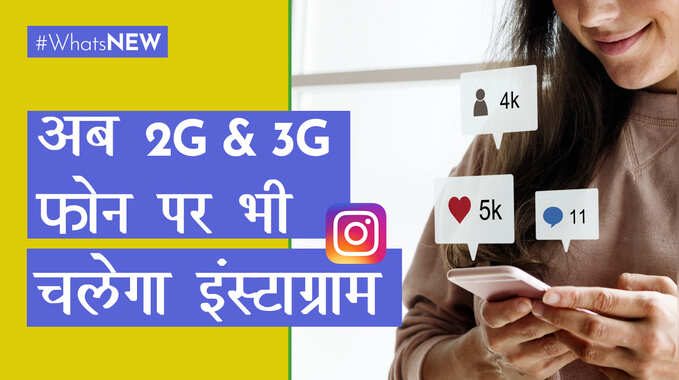 Now Instagram will run on 2G & 3G phones as well