India's well-known electronics company Samsung (Samsung) has acquired its proprietor Curd Maestro Technology (
Curd Maestro Technology
) Curd Maestro Family Hub Refrigerator 673 liters, expanding
Spacemax Curd Mastro
Has launched 692 liters (SpaceMax Curd Maestro) and 845 liters with large capacity side by side refrigerators.
Samsung
Has introduced a new range in view of the high demand for refrigerators of the Curd Mastro range launched last year.
Price and Offer: In terms of price, the price of Curd Mastro Family Hub Refrigerator 673 liters is Rs 187,990 in the pre-booking offer from 23 March to 31 March 2021. Talking about availability, this refrigerator is available on Samsung's official website, e-commerce site Amazon and Flipkart and retail stores like Croma, Reliance Digital and Vijay Sales.
In this way, find out the live location of anyone, just have to do this work

Talking about the offer, customers should purchase the Curd Mastro Family Hub refrigerator. Samsung Galaxy S20 FE (Fan Edition) is also available in the gift with a cashback of up to Rs 6,000.. Speaking of the price, the initial price of Spacemax Curd Mastro 692 liter refrigerator is Rs 93,990. This refrigerator is available in stainless and black matte colors.
845 liters with bigger capacity Side by Side Refrigerator Of Starting Price Rs 101,990 is. It is available at all retail stores. Let me tell you that Samsung comes with a digital inverter technology compressor with power saving up to 50 percent, which has a warranty of 10 years.
If you are troubled by the lack of network in your mobile phone, then in this way, do the solution in a pinch

This will provide a solution to the difficulty of growing yogurt every day. That is, through this, users will be able to freeze yogurt according to their free will. This is the world's first fridge, which will freeze curd. This includes Curd Mastro Technology 673 liters, Spacemax Curd Mastro Refrigerators 692 liters and Side by Side Refrigerators 845 liters. Food can be saved from spoilage through the refrigerator. Now through the Curd Maestro Family Hub IoT feature, users can change the settings of yogurt from anywhere through the Smart Things app. The design of these premium refrigerators is such that the whole family will be happy along with the kitchen.
Features of Curd Mastro Family Hub Refrigerator: Customer can make life easier by using Curd Mastro. Generally to boil curd, milk has to be boiled and cooled. Add a little curd to it. Curd Mastro completes the fermentation, making the process easy. It ferments and also stores the curd. That means now you Get rid of the difficulties of growing yogurt in different seasons, Because one quality yogurt will be frozen every time through Curd Mastro. The process of setting curd through Curd Mastro is completed in just 6.5 to 7.5 hours. Soft curd freezes in 6.5 hours and solid yogurt freezes in 7.5 hours.
Itel's new G-series Android TVs are cheaper than Rs 17000

The built-in view inside camera provided at Curd Mastro Family Hub informs the user on the Family Hub screen without opening the refrigerator. All this is possible through multi-finger swipe and a glimpse is seen inside. If If you are not near a refrigerator or a bar, during that time, you can get information about the contents inside the fringe through the SmartThings app.. Apart from this, this refrigerator also has the feature of digitally showing and remembering the expiry date of the shopping list, making food memos and the items stored inside it.
Curd Maestro Family Hub strengthens the relationship between all members of the family through the built-in screen, as it can also manage family group programs using it as whiteboards, memos and photo albums. People can call each other through this refrigerator. You can also share photos and notes among themselves. Through the Family Hub app, people can share and update calendars among themselves.
Samsung's Bixby recognizes the voice And provide information according to them. If a user asks 'Hi Bixby, what is new today', then he will give information about news, weather or calendar updates to the user. Through Bixby's sound support Hands free call benefits too Get. Users can get mirrors on Samsung Smart TVs and smartphones to watch programs of their choice on the Family Hub screen. Without this You can enjoy music through a direct web browser, live radio app or via Spotify, Gaana.Com and TuneIn. Family Hub has a premium speaker of 25W Which provides a more bass-based sound.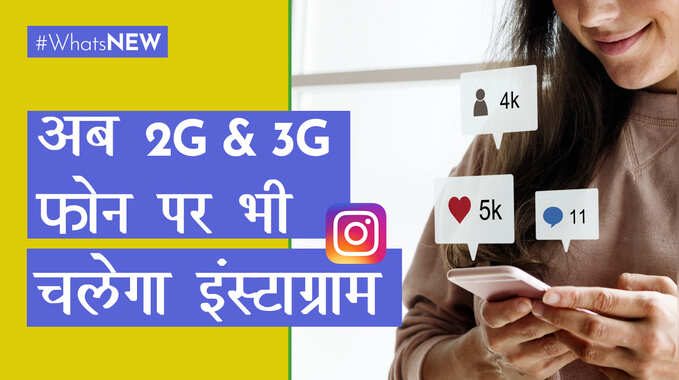 Now Instagram will run on 2G & 3G phones as well
To enhance the food-related experience at Curd Mastro Family Hub Feature meal planner Has been given. Through this, the user suggests a smart recipe based on the dietary wishes set by himself. According to the stuff kept in the fridge, you get help in planning the meal plan for the whole week and through this shopping list is also prepared. SpaceMax technology has increased the space inside the refrigerator by minimally using high quality insulation, thereby increasing the storage space inside.
The Curd Mastro Family Hub has a great door for a luxurious and simple design. The door also has a comfortable handle. The design of this fridge is such that it can easily fit anywhere. Apart from this, let me tell you that These refrigerators equipped with deodorizing filters is. This built-in preserves freshness inside the refrigerator by releasing air through the carbon filters present. Through the Power Cool and Power Freeze feature buttons, it can rapidly cool the stuff inside the fringe.